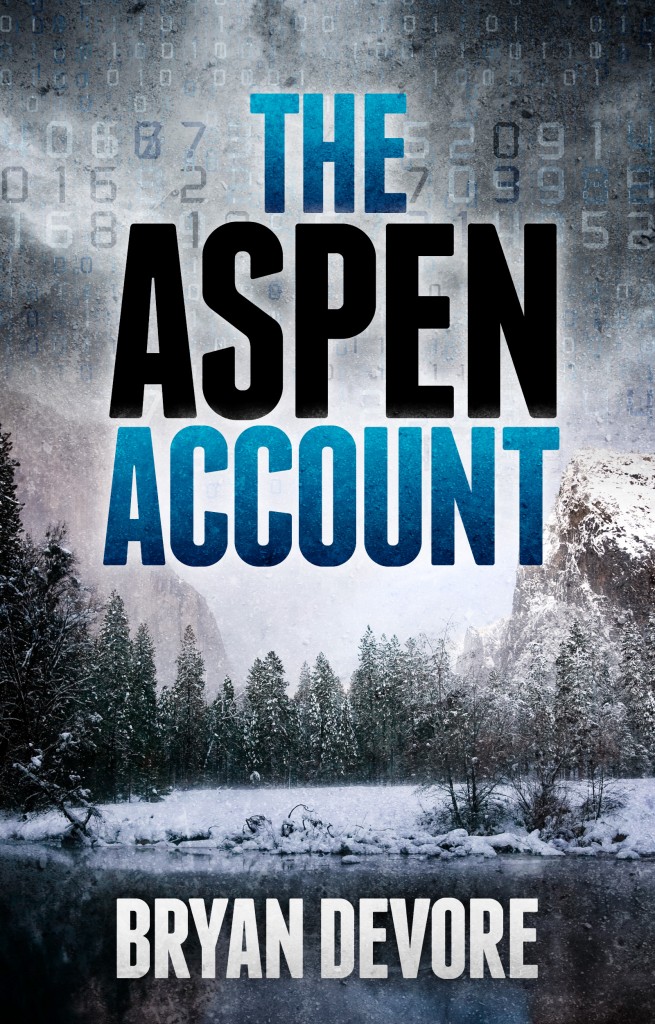 The Aspen Account
"Enough plot twists to keep the  reader turning
the pages…" "Swiftly paced plot…"
After a colleague at Denver's top accounting firm dies in a mysterious skiing accident, Michael Chapman is assigned to replace him on an audit of software behemoth X-Tronic. At the same time, rookie journalist Sarah Matthews of the Denver Post starts nosing into rumors that may connect X-Tronic to her brother's death. And the reclusive Aspen billionaire who founded X-Tronic thirty years ago begins to fear that events unfolding at his company will finally make him pay for a past he would love to forget: when he sold out friends and neglected family in his single-minded pursuit of success. Soon all three will discover just how much they are willing to risk to uncover the truth behind a conspiracy that will shock the world.
Read the Story Behind the Book

"The nature of Michael's double life can be frustratingly elusive, but it's exciting to watch him risk everything in order
to unveil an elaborate, insidious conspiracy." – Publishers Weekly
"Taut suspense…swiftly paced plot…an atmospheric backdrop…The strength of this debut will have many readers
clamoring for more. Devore displays a sure hand in a tight, eminently readable thriller certain to draw a substantial
following." – Kirkus Reviews
"An engaging mystery story…Michael is no James Bond, but Devore portrays him with enough panache to keep the
pages turning… The fascination is in the telling of how (the essential) conflicts play out. It is an enjoyable read." – ForeWord Clarion Review
"Timely…enough plot twists to keep the reader turning the pages…For anyone who's had enough of action lawyers,
make way for a new breed of hero." – BlueInk Review
The Story Behind the Book
Researching THE ASPEN ACCOUNT

I was a senior auditor at KPMG's Denver office during the wake of the Enron scandal. Even though Enron was in Houston and used Arthur Andersen as their auditors, my work at KPMG involved performing the same type of financial statement audits as those conducted by other CPA's across the country: audits designed to give investors confidence in the accuracy of financial statements of public companies—financial statements that directly impacted a company's stock price. So how could a fraud as large as Enron occur? Who were the people who did it? How did they do it? And why? Was it just for money? For power? Was it because of pressure? Greed? Were they evil?
When Enron collapsed, a lot of people suffered because of the crimes of a few individuals. Investors lost money. Employees lost jobs and life savings. There is no question that white-collar criminals are evil, but it's not exactly the same as a violent crime. White-collar criminals are another type of evil. And that gave me the idea for The Aspen Account.
I wanted to write a story about the evils of Corporate America at its worst, but also to show it at its best, too. Economic growth benefits society. I received my Bachelor's and Master's in Accountancy at Kansas State University, and in-between the two, I spent an exchange semester at a prestigious MBA school in Leipzig, Germany (HHL). I remembered studying what a positive effect Capitalism can have on peoples' lives. It wasn't just that we were taught an idealistic vision of Corporate America; we were taught how to make Corporate America an ethical and moral part of society. We were young students and our professors were preparing us to make a difference in the world in whatever paths we pursued.
So when thinking about The Aspen Account, I imagined a conflict of evil versus good, the corrupted versus the incorruptible, greed versus ethics, and everything bad about Corporate America versus everything good about it.
Read More
And that's when I discovered Michael Chapman. I first saw him on the ski slopes of Vail, then the mountain bars of Aspen, and then the nightclubs in Denver. I also saw him when I was working late nights in glass towers in downtown Denver or at large corporate campuses in the Denver Tech Center. I had a few big software clients and literally lived within the world that I created for Michael.
But even though I knew the Denver and Rocky Mountain area and was a CPA at one of the big international accounting firms, I had never come across a large fraud at a client. I had been trained to detect frauds, I knew how they worked and what to look for, I had read more case studies than I could remember, but I really needed to understand more than just the accounting aspects of a major fraud. I needed to understand the characters. Luckily for me, I discovered the book Conspiracy of Fools by Kurt Eichenwald, about the players in the Enron fraud. It was a gold mine for understanding the type of flawed, sickened characters that commit these atrocious crimes, and it proved to be the foundation for which I began building the antagonists in my story.
Research is a critical part of my writing because I want my stories to reach beyond the limitations of my imagination. I want my stories to have a potential greater than anything I could give them on my own.
The other purpose of the story was to break the accountant stereotype. In a way, financial auditors are the detectives of the financial world…and there's a lot of money in the financial world…and where there's a lot of money there's a lot of potential for crime. I often read the Securities and Exchange Commission's website to review summary legal cases on convicted fraudsters. It is really fascinating stuff: and the audacity of some of these white-collar criminals often shocked me.
I felt there was an opportunity to write an exciting thriller about a significant type of crime in our society. I've received a lot of wonderful feedback from other CPA's and financial professionals who loved the story, but the best part has been the positive feedback from people who have no connection to the world of accounting and finance. The books I've loved most are the ones that showed me a world I hadn't previously been exposed to, and I'd like to think that The Aspen Account can introduce readers to the world of white-collar crime, the accountants who guard against it, and the best and worst attributes of Corporate America.
-Bryan Devore
Close Content