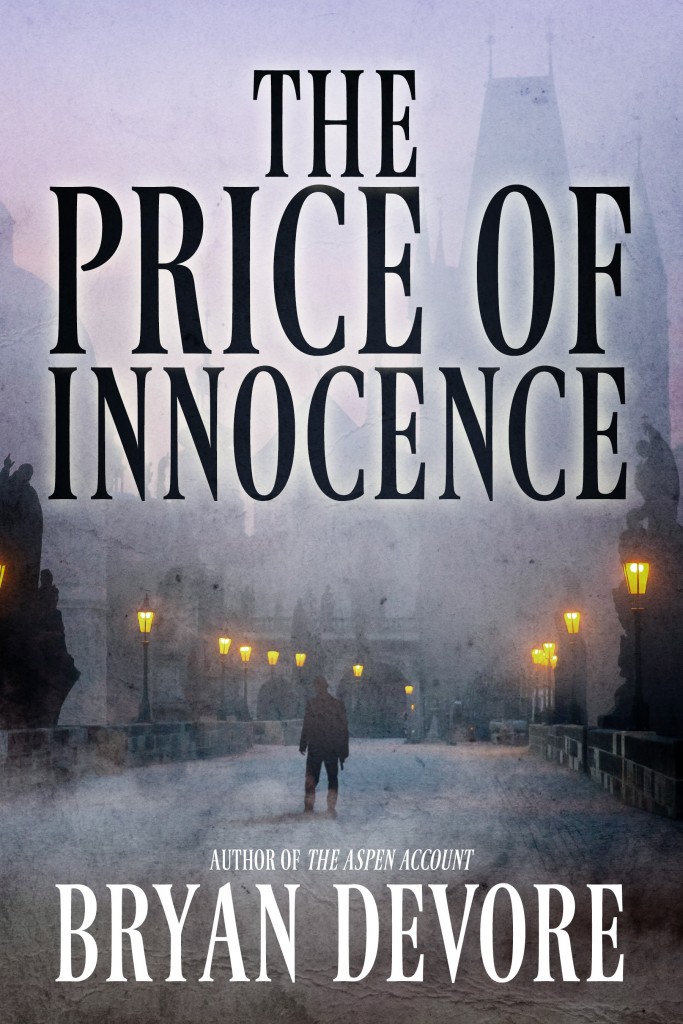 The Price of Innocence

"A first-rate suspense thriller…delivers gripping action, well-rounded characters, and a tantalizing plot…"
In the decade since their younger sister's death, James and Ian Lawrence have drifted apart – James to pursue a steady but humdrum career as a CPA in Kansas City, Ian to go adventuring off to Leipzig, Germany, for his doctorate in economics. But when Ian mysteriously disappears while researching the economics of organized crime, James must take a leave of absence to look for him. Risking everything, he embarks on a perilous journey across Europe, digging deeply into the business affairs of some very private, very dangerous people. But in the search for Ian, he discovers a brewing revolution that will shock the world – and change what he sees as his own place in it.
Read the Story Behind the Book

"A first-rate suspense thriller…delivers gripping action, well-rounded characters, and a tantalizing plot…The Price of Innocence is a complete package of entertainment. Devore skillfully immerses his readers in German and Czech cultures, adding rich international flavors…As if an exciting, precise plot weren't enough, the author also fills his story with subtle but powerful themes, including respect for women, eternal optimism in the face of defeat, and the strength of brotherly love…Fans of John Grisham's legal thrillers or Robert Ludlum's intricate action scenes are going to be pleased with Devore's contribution…Readers of all ages will enjoy this intelligent novel." – ForeWord Clarion Review (5 Stars) 
"The narrative boasts a distinctly cinematic impression…every scene is made memorable by chilling descriptions and dialogue…An enticing plotline, lifelike characters, high octane prose and penetrating visualizations combine to create a compelling, hair-raising story that may not be as far from reality as readers may think." – Kirkus Reviews
"A fun thriller…By the time the book climaxes (in the final chapters), the action is relentless, with a satisfying denouement." – BlueInk Review
"After about 20 pages, The Price of Innocence takes an irresistible hold. Devore has a big imagination and the writing skills to match…The story is immediate, personal, and riveting – a page turner, in the very best way…will keep you captivated until the very last paragraph." – Pacific Book Review
The Story Behind the Book
Researching THE PRICE OF INNOCENCE

I still remember standing on the rooftop of a nightclub in Berlin and telling a friend that someday I was going to write a thriller about an American that was forced to travel through Europe against their will. Back then I was an exchange student in the MBA program at the Leipzig Graduate School of Management known also as Handelshochschule Leipzig (or HHL). It was one of the most exciting periods of my life. I was twenty-three and living in Europe for six months, studying at a prestigious school (the oldest business school in Europe), and traveling frequently across the continent when my schedule allowed. Leipzig is a city just south of Berlin and was inside the former Soviet Bloc. I had grown up in love with Cold War spy novels, so I found it thrilling to be living in a place that had been behind the Iron Curtain only ten years earlier. I witnessed at the same time both the aftermath of Communism and the hope of Capitalism. It was an experience that I will never forget, and I think that part of the reason I started writing The Price of Innocence years later was because I wanted to mentally revisit that place and time in my life.
So the idea of the book started with the locations. It also started with the idea I had mentioned to my friend about an American who didn't want to go to Europe, but was forced to. This idea appealed to me because, at times, it can be a real struggle to live or travel in foreign lands, especially if one doesn't know the local language. There were times early on in my exchange semester when I faced such wonderful challenges, and I loved them because it was all part of the experience of living abroad that I had searched out. But I remember thinking how hard it would be for someone who wasn't excited about traveling, how challenging and frustrating it could be for someone that hadn't chosen the journey in the first place. It didn't take long for me to construct the idea of two brothers whose lives had taken them in different directions and an event that would ultimately bring one to a place he didn't want to go to.
Read More
But all of this was just the background of the characters and the setting. The real power of the story, to me, was the horrific crimes at the center of the plot. I still remember the first time I was really educated about the shocking horrors of human trafficking and sex slavery. In January 2003 I read an article in Details Magazine titled Slave Drivers by Kevin Gray about the sex slavery epidemic spreading across Eastern Europe. I hadn't heard much about these crimes before that article, and at that moment I knew that I had to do whatever I could to further highlight these crimes to help add as much focus to them as possible. I couldn't believe that in our modern world, such a horrible crime could be happening on a large scale across the world. It had to be the single worst crime ever. What could be worse than the combination of slavery and repeated rape? I couldn't imagine anything more horrible than that, yet public awareness at that time didn't seem very high. One would have thought that the nightly news would start each evening with a highlight of these horrific crimes, but they didn't. Why? Was it because it was too horrible to think about? Maybe. But there was something else here, too. How could it be happening so secretly? How could it be happening at all? And then I discovered the answer: organized crime.
Like for most people, organized crime for me was nothing more than a source of entertainment in movies. I loved the Godfather trilogy in high school and adored GoodFellas and Casino and other Scorsese masterpieces in college. But I had never really stepped back to think about the nuts and bolts of organized crime. After six years studying accounting, finance, strategic and operational management, and a slew of other disciplines in business school, I realized that there really was an intriguing business side to all the organized crime activities. How did they hire and supervise people for tasks? How did they run the operations of their complex, secretive businesses? How did upper management really work? And how did the money move? I read a ton of books on these subjects, but my most favorite was Five Families by Selwyn Raab, an incredible book about the history of America's most powerful Mafia empires (with some scary predictions of the resurgence of organized crime in recent years). In addition, I discovered a rare gem for my topic, a book published in 1995 by Cambridge University Press titled The Economics of Organised Crime, which was a compilation of economic papers from the Centre for Economic Policy Research (CEPR), edited by Gianluca Fiorentini and Sam Peltzman. It is the first book to use economic theory in the analysis of all the different aspects of organized crime, and it became so critical to my story that I even show and quote the book in my novel.
I also researched many human rights and humanitarian efforts throughout history. Of everything I read, the two most helpful books for my research were The White Rose by Inge Scholl (a tragic but inspiring true story of a small underground organization of German students and professors who opposed Hitler's Nazi Party in 1942) and Chasing The Flame by Samantha Power (the true story of Sergio Vieira de Mello, a remarkable man whose passion and courage helped so many). The story of the White Rose was the inspiration for an organization in my novel, and the story of Sergio Vieira de Mello was the inspiration for one of my novel's main characters.
In the end, The Price of Innocence became many things to me. It was a reflection on one of the most exciting periods of my life, a homage to the great Cold War thrillers by John le Carré (my favorite author), an exploration of the business acumen of those in organized crime, a display of the powerful bonds between siblings, and an exposition of and call-to-action against the horrors of human trafficking and sex slavery. It's a dark story, but one that I felt I had to write.
-Bryan Devore
Close Content